Keywords: fluidity and connection
In 2022 we followed one of our long-standing customers in its renovation and expansion project, taking care of every aspect of the implementation: process analysis and optimisation, design and organisation of the area, production, installation and testing of equipment.
Autodemolizione Giorgi Angelo is now among the most modern car-wrecking plants in Italy.
We have adopted an organisational system capable of redesigning ELV recovery processes to make them more efficient, safe and cost-effective. Equipment with 4.0 technologies for M2M (machine-to-machine) communication, constant vehicle movement, modular solutions that can be easily expanded and adapted to new production needs. The keywords are fluidity and connection.
Optimisation of space and resources
Problem: spaces and roles without defined organisation, disorder and inefficiency.
The recovery area has been organised into independent departments for vehicle recovery and dismantling, each with qualified staff, trained exclusively for that specific task. Each department delivers the vehicle to the next unit.
Reduction of downtime and constant handling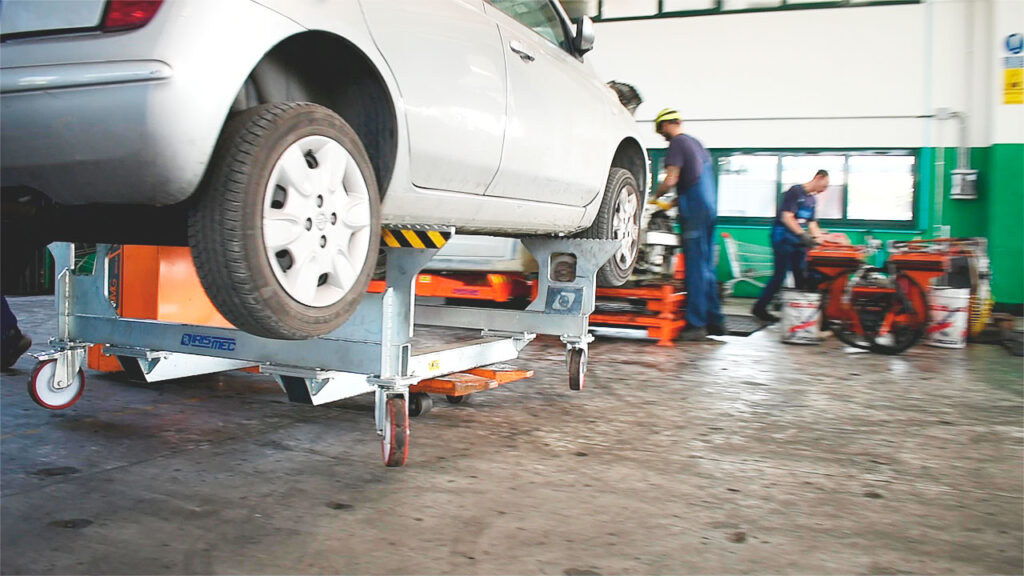 Problem: the passage of vehicles between the various locations is a critical point of attention and generally creates a lot of downtime, as the productivity of a car dismantling depends on a perfect interaction between all departments.
In order to improve internal logistics and optimise the process, we decided to exclusively use a push trolley system (manual or with electric pallet trucks) to carry out the preliminary operations before reclamation (deactivation of airbags, recovery of Freon gas, removal of batteries) and to move the vehicles between departments, completely eliminating the use of forklifts inside the working area.
Our lifts are designed in order to position the vehicle on the support even without the use of a forklift; with the trolleys, in fact, it is possible to quickly move and position vehicles on the lifts.
In this way, we guarantee high operational continuity between departments, the elimination of downtime and the reduction of the risk of accidents. All installed equipment is designed for the highest level of ergonomics and safety, allowing you to work in more comfortable positions to reduce fatigue and the risk of injury.
The advantages of this organisational model:
Faster training for new operators
Targeted optimisation and upgrading of departments, equipment and personnel;
Quality and precision in the recovery of materials and spare parts;
Drastic reduction of downtime and risk of injury;
Operational continuity;
Cleaner and tidier working area.
---
Data-driven approach: evolution and future of car dismantling
The connection between equipment and management programmes represents a great opportunity for modern car-dismantling because it allows to use the data collected during vehicle treatment for tracking, statistics and archiving purposes.
Problem: no objective feedback on the effective rendering of the treated vehicle and the efficiency of the process, imprecise procedures.
For Autodemolizione Giorgi Angelo, we have integrated the recovery department with two KPLs, our innovative weighing system for fluids and mechanical parts.
Thanks to computerised monitoring and interactive connection to company PCs, it is able to easily and accurately detect and track the quantity of fluids taken, the weight of filters and batteries for each treated vehicle.
With our 4.0 equipment it is possible:
Measure the efficiency and productivity of your recovery activity;
Use data efficiently in decision-making;
Predictive maintenance and related cost reduction.
Optimise resources to achieve specific goals.
Monitor the status of storage tanks.
The final result is an effective mix of technology and organisation capable of improving car wrecking productivity very quickly and increasing the reliability and quality of the parts recovered.